RaffertyHQ has come a long way since it was first officially released on 31 August 2001. Let us venture into the grand past this site has had.
Mid 1999 - Mid 2001
I started learning HTML, a language that allows you to build websites. I created various small projects. This went on for about two years, until it came to my attention that it would be both fun and a challenge to build a small family website.
It would bring the family even more together and create our own special online community.
Mid August 2001
Starting off on a simple design incorporating a header graphic and simple text, the site evolved with a strong Irish theme using pictures of clovers and green text. This design was later scrapped as it was not working out.
Late August 2001
A new site is put together consisting of a bright blue and green colour scheme. The site included a very simple photo gallery, birthday list, family history and a numerous amount of links to other helpful sites. Main links were down the left hand side.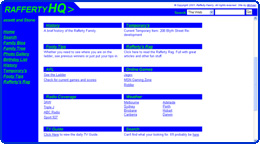 August 31 2001
The site is officially launched.
Late September 2001
The 2001 footy season had just been completed.
A footy tipping section had been added to the site. It displayed the 1999, 2000 and 2001 ladders. There was no way as of yet to to put your tips in online except from sending an e-mail, which was planned to be in operation again for the 2002 season.
Early November 2001
In November a section was added to display the progress of 208 Blyth Street as both the exterior, including garden, and interior was being refurbished.
Also added at the time was The "New Rafferty Rag", which failed to take off and was discontinued by the end of the year.
March 2002
Starting on the 5th, RaffertyHQ was dramatically overhauled and was given a dark blue tone colour scheme. A supplementary links list was fitted down the right hand side.
Other new features included was a news section where family members could write and display articles (Where this article is located right now), and the ability for users to make RaffertyHQ their homepage in two simple clicks.
The Footy tipping section was also given its biggest breakthrough when the facility of easily selecting teams and submitting your selections was implemented. Tipping history and Rules and Regulations was also added.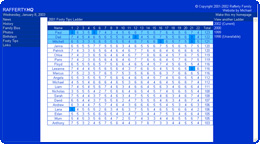 July 2002
The site changed its layout. Main links were placed across the top of the page, to save room, while the Quick links remained down the right hand side.
The photo gallery section was categorised for easier use, and the page could now be added to a users favorites menu through the main window. With thanks to Andrew, the links section was also expanded.
The footy tipping section now had the 1998 season ladder, with many thanks going to Noel for helping out. Noel also contributed his appealing stories full of amazing facts and stats, which all came under the title of "The Resident Historian".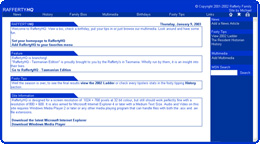 Late September 2002
The footy tipping section now had the 2002 season on display, and tipsters could view their personal statistics, including years of tipping, number of 8's scored, round and yearly averages and their best and worst placings and scores.
Tipping History was improved and a section glorifying the Rafferty Perpetual Trophy was created.
Also Added in September was Luke's bio, soon followed by Noel, Sue and Johanna.
Mid December
December saw the release of "RaffertyHQ - Tasmanian Edition". The very own site of the Rafferty's in Tasmania.
25 December 2002
Within the first minute into Christmas day, RaffertyHQ 2003 was launched. Now with a hint of orange, it has a distinct look to those of the past.
With improved Quick links bar and added inbuilt email support, it's the best RaffertyHQ yet.
Soon after, Brian's bio was added, bringing the total of bios collected, to 25.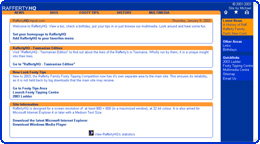 January 7 2003
Site statistics are implemented, meaning that users can view site usage history.
Also added are the first of a new range of flash animation banners. Which will add a new dimension to the site.
Hopefully this has given you a greater insight into just how much the site has changed through time.
I leave you wondering just what might happen in the future, the answer, anything.